Managing your wireless numbers
All wireless numbers overview
Our "All wireless numbers" page is your go-to-resource in My Business for almost anything related to the lines of service on your account.
Here's just a few things you can do:
Check data and line usage
Change your plan
Activate a new device
Upgrade a device
Change user information
Change features
And much, much more
Sign in, search and filtering
Sign in and navigation:
To get to All wireless numbers from the global navigation area at the top of all My Business pages:
Sign in to My Business.
Click Manage Account.
In the "Service" section, click Manage Wireless Numbers.
The navigation bar allows you to search, filter, and display your wireless information, in the way that fits your needs and the needs of your business.
Search:
Click the search window to search by:
Wireless number
Wireless user ID
Wireless username
Account number
Device ID
SIM ID
Cost center
Need to search for multiple lines? Copy and paste a maximum of 100 wireless numbers from one account directly from a spreadsheet or separated by a comma.
Filter and group:
Click Filter by to show your lines by:
Line status
Upgrade eligbility
Device capability (including 5G)
Brand
Device type
Click Group By: to sort your lines by:
Billing account
Upgrade eligibility
Cost center
You can download or print a copy of your lines too. Just click the icons at the end of the search and filtering bar.

"I want to..." actions area
Click the I want to... action area above the search and filtering bar for quick access to a number of useful account features.
It's organized by category:
Plans and features
Wireless user
Devices
Other
Each link shows how many lines you can change or update, such as Manage plans (100 lines max) or Change wireless user ID (99 lines max).
Click any of the links to start. Some of the processes might require you to select a wireless number first.
In the Plans and features section, you can:
Manage your plans
Add or remove features
Manage data allowances
In the Wireless User section, you can:
Edit user information
Change a cost center
Change a wireless number
Change the billing responsibility
Reset a voicemail password
Suspend or resume service
Move a wireless number
Change a wireless user ID

Chnage a memo bill email
In the Devices section, you can:
Activate equipment
Upgrade a device
Disconnect a line
Replace a SIM card
Exchange a device
Add or remove features
Manage data allowances
In the Other section you can:
Manage call forwarding
Update call and message blocking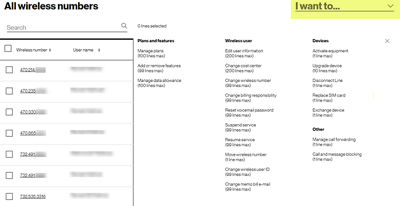 Customize the columns
You can select up to 6 columns to view and organize your wireless lines.
Click Select Columns to choose which columns to display. Choose from:
Wireless number
User name
Billing account
Wireless ID
Equipment model
Device ID
Cost center
Upgrade eligibility
SIM ID
Column links:
Click any column to sort your wireless lines by that category.
Click any wireless number to go to its Line Overview page.
Click any account number to go to its Account Overview page.
Clicking Upgrade eligible to shop for a new device.