My Business & Verizon Enterprise Center Single ID users
Single ID user overview
What's a My Business/Verizon Enterprise Center Single ID user?
It's someone who uses My Business for wireless account management, and Verizon Enterprise Center for internet and wired communication accounts.
Single ID users have one user ID and password, and can use the same browser window to access My Business and Verizon Enterprise Center.
Requesting Single ID access
How do I request Single ID access in My Business?
It's just a few steps:
Click your name in the upper right corner of the screen, then click Enroll in Single ID.
Enter your Country Code and phone number, then click Next.
To enable access to your account, you can enter an Invitation Code, Verizon invoice or Other account information. Follow the onscreen instructions to complete the process of your choice, then click Submit.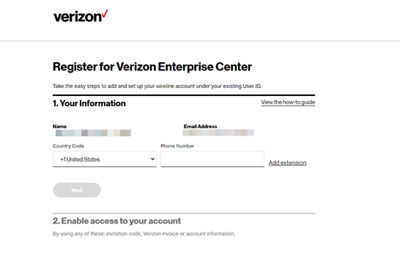 My Business Single ID user roles
Will My Business user role change?
No, you'll retain the same user role in My Business.
Switching between My Business & Verizon Enterprise Center
How do I switch between My Business and the Verizon Enterprise Center?
To get to My Business from Verizon Enterprise Center home page:

Click Manage Account, then Wireless & Mobility, then click Go to Wireless Homepage.
To get to Verizon Enterprise Center from My Business:

Click Internet & Wired Communications at the top of the My Business home page.