My Business self-registration & End User role
Overview
New self-registration process
The quickest way to get your company users set up in My Business and the My Verizon for Business app is for them to self-register, and they can complete the process on their own from the My Business login page. 
Self-registration at the End User role is *enabled by default, but that access is controlled by your company's Primary Contact. They can disable the End User role for self-registration, or provide standard My Business access by enabling Account Managers status. 
*Note: Government accounts are not automatically enabled for self-registration. The Primary Contact can enable it in My Business though.  
End users & Account managers
What's the difference between an End User and an Account Manager in My Business?
An End User can manage their company mobile number in My Business, but can't view details about other lines or aspects of the company account, or transact on behalf of the company. 
End users can:
Activate equipment
Change wireless user info
Manage your notifications and personal address book
Replace SIM Card
Reset your voicemail password
Run Reports (limited to your line information only)
View your data and/or voice usage 
An Account Manager has standard My Business access to manage your company's Verizon Business accounts. The features and functionality you can use in My Business and the My Verizon for Business app are determined by your assigned user role. Learn more about My Business user roles.
Enabling or disabling self-registration
Enabling or disabling self-registration
The Primary Contact can disable or enable self-registration for their organization in My Business. 
Click your name in the upper right corner of yoru screen.
Click My Profile.
Scroll down to the "Self-registration" section & click Update permissions. From here you can click to Enable or Disable End users registration, or Enable/Disable Account Managers registration.

If you enable Account Manager self-registration, you must select a user role that all new Account Managers would have when self-registering. The Primary Contact or Administrators can update User roles in My Business any time.
Our User Roles page has details on the permissions Account Managers have in My Business.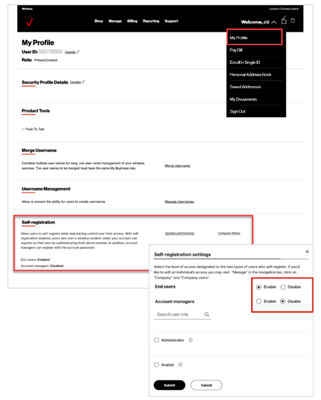 How to self-register for My Business
Self-registering in My Business
Go to the My Business login page.
Click Register here.
In the My Business for Wireless section, click Register.
Select a user type:
Enter your mobile number and click Continue.

We'll send a one-time passcode (OTP) to your mobile number.
Note: If your company hasn't enabled self-registration, you'll get an error notification at this point. Your company's Primary Contact must enable self-registration.

Enter the OTP and click Continue.
Enter your first and last name, your mobile number and your company email, then click Continue.
Create your username and password, set up your security questions, check the box next to the Terms and Conditions and click Register.
You've successfully self-registered for My Business.