Overview
Line overview pages are the hub for quick access to manage each line on your account.
Here's just a few things you can do:
Edit user information
Get device information and active devices
See talk, text and data usage
Manage plans and features
See your recent transactions and order history
This page has a quick overview of features and functionality for your Line overview pages.
Sign in and navigation
Sign in and navigation:
To get to a Line Overview page from the global navigation area at the top of all My Business pages:
Sign in to My Business.
Click Manage Account
In the the "Service" section, click Manage Wireless Numbers.
Click the mobile number you want to go to its Line overview page.
"I want to..." actions area
Click the I want to... action area at the top of the Line overview page for quick access to a number of useful account features. 
It's organized by category, with a few different options than the All wireless numbers page:
Billing account
Plans and features
Wireless user
Devices
Other
Each link shows how many lines you can change or update, such as Manage plans (100 lines max) or Change wireless user ID (99 lines max).
Click any of the links to start. Some of the processes might require you to select a wireless number first. 
In the Billing account section you can:
Edit your billing address
Update paper free billing
View your invoices
In the Plans and features section, you can:
Manage your plans
Add or remove features
Manage data allowances
In the Wireless user section, you can:
Edit user information
Change a cost center
Change a wireless number
Change the billing responsibility
Reset a voicemail password
Suspend or resume service

Move a wireless number
Change a wireless user ID

Change a memo bill email address
In the Devices section, you can:
Activate equipment
Upgrade a device
Disconnect a line
Replace a SIM card
Exchange a device
In the Other section you can:
Manage call forwarding
Update call and message blocking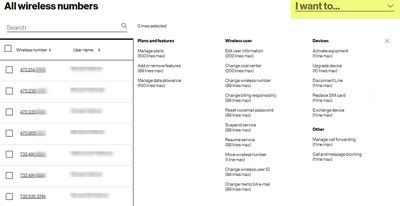 Search and filter
Search and filtering
The left side of your Line overview page displays all the lines on your account. 
If you have a lot of lines on your account, you can filter them by:
Line status
Upgrade eligibility
Brand
Device type
Click the Account number by your company name to navigate to the All accounts page.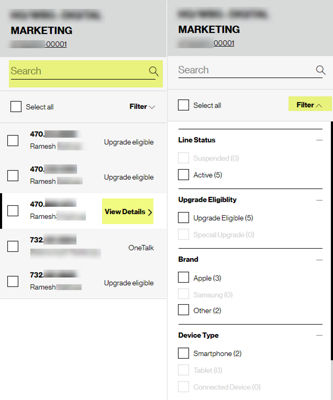 Information tabs
Each Line oveview page has tabs for one-click access to key line information:
User info
Device info
Plans
Features
Recent activity
User information:
All of your user information is here, such as address, wireless user ID, alternate contact numbers and email address.
Click Edit to access the Change user information page.
Click Change billing responsibility to start a transfer of service
Some user roles can also change a wireless user ID and cost center
Device information:
Scroll down or click the Device Info tab to see your device info and upgrade date.
You can also see your device status and device ID here, along with link to:
Suspend, resume or disconnect a line
Access call and message blocking
Manage call forwarding
Reset your voicemail password
Buy accessories
Plans:
The Plans area shows your plan name and cost, along with a chart displaying your talk, text and data usage, including 5G and promotional data.
There's also quick links to:
Manage plans
Set usage alerts
See your current usage
Features:
The Features tab has easy to read tiles for all of your features, their cost (if any) and whether it's a line level or account level feature.
Click the + sign to see features automatically included with your line.
Click Manage Features to change or add features, or check out step-by-step instructions on our Add or Remove Features support page.
Recent activity:
You can see all of your recent My Business transactions here, listed by date, iwht the transaction type, transaction number and status (Complete, Pending, etc).
Click any transaction number to see complete details on our Transaction History page.
There's also quick links to:
View all transactions
View all orders